Email and passwords leaked - how to check yours.
Posted by Michael Trimblett on 31 August 2017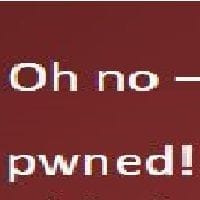 It's happened again. Yahoo reports there has been a huge data leak of the email addresses and passwords of 771 million people. I did not escape the breach, nor did many of the email addresses we use at Loyal I.T.
Currently, it is unknown where the breach occurred, but it is important for everyone who has been breached, to update your password to something new and most importantly, something strong. Strong passwords are generally over 8 characters long, contain a capital letter, a number and a symbol.
To check to see if your email address and password have been compromised, visit https://haveibeenpwned.com/ and enter your email address. If you have been pwned (the internet's cute way of saying "owned") then it is suggested to change the password for that email account and for any accounts you use that email address to log in to.
With any luck you won't see:
If you need assistance with updating your passwords, please contact us on 02 4337 0700.

Author:
Michael Trimblett
About: Michael has been in the information technology industry since 1998 and has a passion for everything technology. He has a technical background as a qualified network engineer, project manager and is qualified as a Certified Ethical Hacker.
Connect via:
Twitter
LinkedIn