The End is Nigh for Microsoft's Windows 7 Operating System
Posted on 6 February 2019

Support for Windows 7 will cease in January 2020; are you prepared?
As the saying goes, all good things must come to an end. Over the recent years, Microsoft has slowly been scaling back support for the Windows 7 operating system, but in January next year support will officially come to a close.
When Windows 7 becomes end of life on January 14 2020, security vulnerabilities and software bugs will no longer be patched by Microsoft - which could leave your machine insecure, glitchy, and incompatible with many modern software programs.
The easy answer is to upgrade to a Windows 10 machine. A great deal of individuals and enterprises on the Central Coast have already upgraded and are using Windows 10 like they knew nothing else ever existed. However, Net Applications reports that 37% of people are still hanging on to their Windows 7 machines, despite being surpassed by Windows 10 almost four years ago.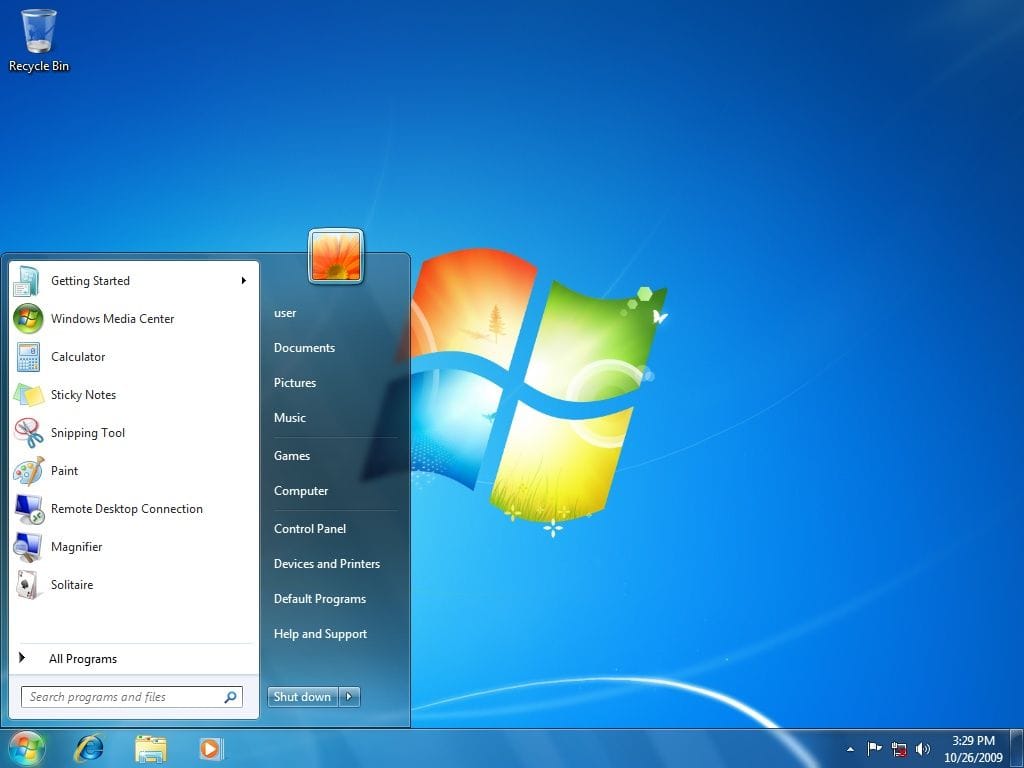 Does your desktop look like the above? If so, you could be running Windows 7.
While familiarity with your Windows 7 device can be hard to break, staying with the ten-year-old platform is not worth the risks it could bring in to your home or business.
Let's look at the risks involved when Windows 7 becomes end of life in January.
Software Incompatibility. Many software providers have already announced that their products will no longer be compatible with Windows 7 machines. This means that the software won't receive feature updates or bug fixes, and the software vendor won't be able to provide technical assistance. In some cases, the software itself simply won't be able to install.
Security Vulnerabilities. If you are running a Windows 7 machine, it will no longer receive any security updates from Microsoft, which could leave your network exposed to malicious attacks and data breaches. Windows 7 is already a ten-year-old operating system with many known vulnerabilities, but no new security updates means that any new malware or viruses could have uninterrupted access to your machine. It's all too easy for hackers to search for internet-connected devices with these vulnerabilities, and attack them - it's akin to leaving your front doors open with a sign out the front saying nobody is home. For further information, please see this article from Tarsus Today.
No Support from Microsoft. If you have a problem with your machine and it is running Windows 7, Microsoft's customer service and technical support team will not be able to offer you any help or technical assistance.
Data Security and Compliance. If you have industry regulations regarding the protection of sensitive customer data (e.g. healthcare and finance), you could be putting your customers and business reputation at risk by using an out-of-date operating system that is known to have security vulnerabilities. Certain data breaches are now required by law to be reported under the Notifiable Data Breaches scheme and can attract financial penalties.
High Operational Costs. While your Windows 7 machine will not stop working come January 2020, the cost to maintain and troubleshoot legacy software could end up costing your business more than the cost to upgrade your machines. Also consider the potential losses if your business-critical software were to fail during a busy production period, and you were unable to receive support from the software provider as they no longer support the software on Windows 7 devices.
Windows 10 - Similar look and feel to Windows 7, plus better productivity
Windows 10 is a cleaner, modern version of the Windows 7 user interface albeit with more features.
The start menu follows the same logical sequence and has that familiarity, but there are added features such as the search bar which will activate a search across your hard drive files, control panel, and the Internet, helping you find what you need quickly.
Windows 10 has less inherent vulnerabilities than Windows 7, and the up-to-date support will keep you and your data protected. The Windows 10 software has improved stability and performance over Windows 7, and also has the Windows App Store, allowing you to download apps onto your PC, laptop, or Surface tablet just like you would on a smartphone.
Windows 10 comes pre-installed on nearly all new workstations and laptops, and has twice-annual updates that bring new features to the platform.
What we recommend - plan sooner rather than later and beat the rush
Contact a reliable I.T. service provider who can explain more about the risks of old and/or non-supported operating systems, and what changes may be required to your current I.T. infrastructure to coincide with an operating system upgrade.
We suggest you consider this change sooner rather than later, so that if infrastructure changes are warranted, you have plenty of time to plan for it.
If you need to upgrade any equipment or software, start planning now to get in this financial year's 'instant asset write-off'.
Avoid a last-minute panic at the end of 2019, when demand for Windows 10 machines could be at an all-time high.

You may also like to read our fact flyer sheets: