VIRUS ALERT: Cryptolocker outbreak
Posted by Michael Trimblett on 2 June 2016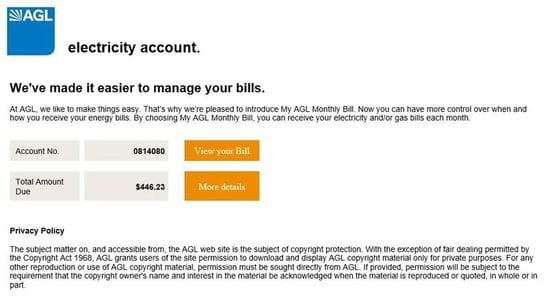 We have had an alarming number of business reporting to us that a new variant of Cryptolocker is doing the rounds. This variant is masquerading as an AGL energy bill inviting you to click on the links to "View your Bill" or click for "More details". If you receive this email, delete it immediately. The email will look similar to the image at the top of this blog.
Please circulate this link to all of your employees, friends and family. If you are an AGL customer, please contact their customer support centre if you have any queries about the legitimacy of the email you receive branded with the AGL logo.
If you require assistance or have further questions about Cryptolocker, please don't hesitate to contact the Loyal I.T. Helpdesk on 02 4337 0700.

Author:
Michael Trimblett
About: Michael has been in the information technology industry since 1998 and has a passion for everything technology. He has a technical background as a qualified network engineer, project manager and is qualified as a Certified Ethical Hacker.
Connect via:
Twitter
LinkedIn