The End of an Era: Windows Server 2012 and Windows Server 2012 R2 Support Ends
Posted by Michael Goodwin on 17 October 2023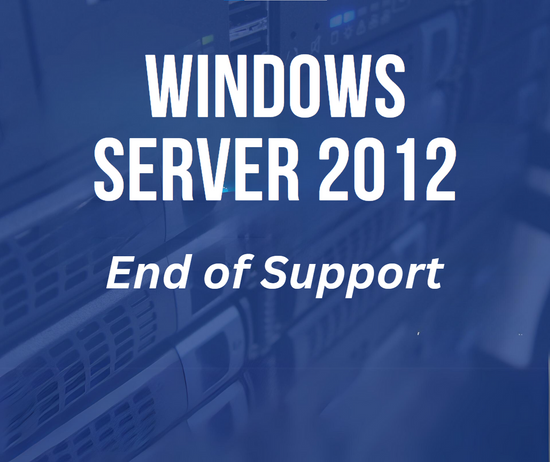 Introduction
Updates to technology are constantly taking place and as part of this progress companies cease support to older products in order to concentrate on newer products. Microsoft has officially ended support for Windows Server 2012 and Windows Server 2012 R2. This pivotal moment holds great implications for businesses that still rely on these operating systems. In this blog post, we'll guide you through the process of transitioning away from these unsupported versions and ensuring a seamless experience for your business operations.
Why Is the End of Support Important for Your Business?
The end of support means that Microsoft will no longer provide security updates, bug fixes, or technical assistance for these aging server operating systems. Here's why it matters:
Security Vulnerabilities: Without regular security updates, your servers are at risk of falling prey to emerging cyber threats. Vulnerabilities may remain unaddressed, potentially leading to data breaches and system disruptions.

Compliance Issues: Many industries have strict regulatory requirements. Running unsupported software could result in compliance violations, hefty fines, or missed business opportunities.

Compatibility Challenges: As new technologies and software emerge, they may not be compatible with these older server operating systems. This can hinder your business's ability to adopt innovative solutions.

Performance Decline: Unsupported operating systems tend to experience reduced performance and reliability over time, adversely affecting your business operations.

Lack of Technical Support: When problems arise, you'll no longer have the security of Microsoft's technical support. This can lead to extended downtime and increased frustration for your I.T. team.
What Can Your Business Do?
Transitioning away from Windows Server 2012 and 2012 R2 is essential for maintaining your I.T. infrastructure's security and efficiency.
The simplest way to investigate the best system for you is to have an audit of needs now and into the future. A simple call to Loyal I.T. and we can arrange this for you.
Conclusion
The end of support for Windows Server 2012 and 2012 R2 signifies a significant shift in the tech landscape. Investing in the security and reliability of your server infrastructure is crucial. By proactively upgrading or migrating to a supported server version, you can ensure the uninterrupted flow of your business operations while reducing security risks.
Where to find more information
Loyal I.T. Solutions provides advice and implementation of the right hardware and software for your business. We are here to help. Please contact Loyal I.T. Solutions at 02 4337 0700 or reception@loyalit.com.au.

Author:
Michael Goodwin
About: Michael Goodwin began his career in Information Technology in 1992 and he brings a wealth of experience to his is current venture - Loyal I.T. Solutions. Based on the NSW Central Coast, Loyal IT Solutions services businesses large and small from Sydney to Newcastle.
Connect via:
LinkedIn